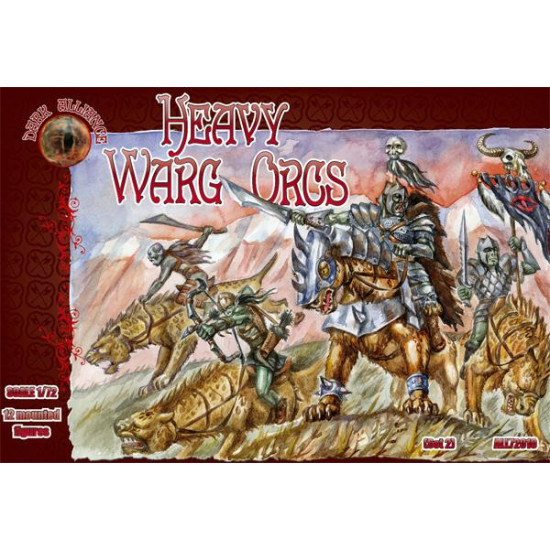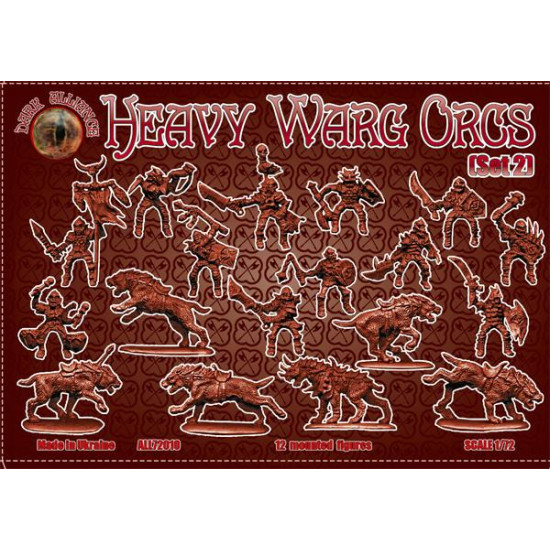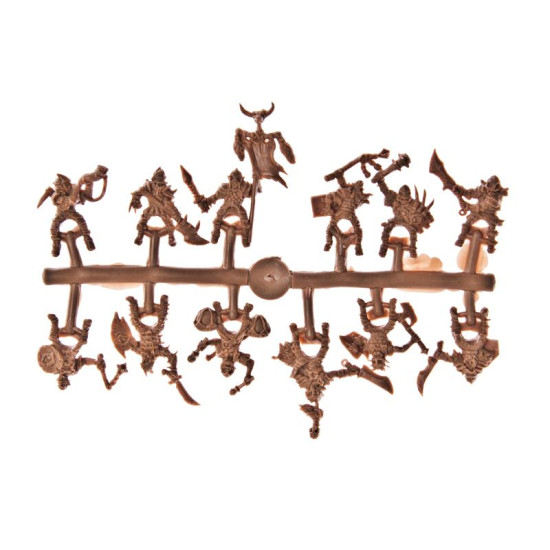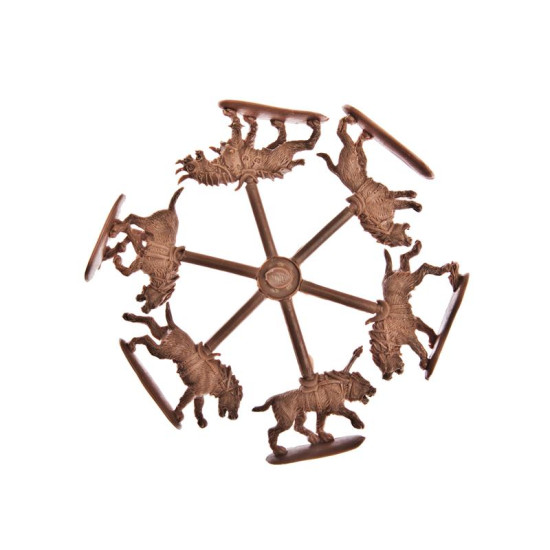 Heavy Warg Orcs 1/72 ALLIANCE 72010
Heavy Warg Orcs 
1/72 scale plastic model kit
Alliance ALL72010
Manufacturer: Alliance 
Scale: 1/72
Material: Plastic
Condition: New in Box

Orcs were the most commonplace villains serving the Dark Powers in all of Tolkien's Mythology, a race of sentient beings bred by the evil Vala Melkor (Morgoth) during the time of the Great Darkness. The Dark Lord Sauron, and later the wizard Saruman, also bred them and used them as soldiers and henchmen to do various evil deeds across Middle-earth.Tolkien never mentioned female orcs, but in The Silmarillion he wrote that "the Orcs had life and multiplied after the manner of the Children of Ilúvatar;" and that the wise [Elves] of Eressëa believed that Melkor had created them before the First Age by breeding Elves he had captured and corrupted, by means of torture and mutilation. In The Lord of the Rings, Treebeard tells Merry and Pippin that Orcs were mere attempts by Morgoth to copy the Elves, which would seem to contradict the account in The Silmarillion, but then J.R.R.  Tolkien mentioned on several occasions that none of his characters were omniscient. Therefore, Treebeard's account of the creation of the orcs might have simply been his understanding of it, or he might have been right about it and the ancient Elves of Eressëa might have been wrong.
It is unclear whether Tolkien regarded Orcs as evil in their own right or simply as tools of the Dark Lords Morgoth and Sauron.[1] Orcs were dependent on the Dark Lord in various ways; after their leader was defeated, the Orcs were confused and dismayed, and easily scattered by their enemies. In the millennia after Melkor's defeat and banishment from Arda they were without a leader, and degenerated to small, quarrelsome tribes hiding in the Misty Mountains. Only when led by a Maia like Sauron did they begin to reclaim some of their old power and become a real danger to Middle-earth.
We have the lowest worldwide shipping. And it's totally simple.
EUROPE, USA, CANADA

TURKEY, ISRAEL, EGYPT, UE
CHINA, JAPAN, HK, S.KOREA

AU NZ MX
South America, Asia

Order weight up to 0.22kg or 0.48lb
US$ 8.90
US$ 8.90
Order weight up to 0.44kg or 0.97lb

US$ 13.95

US$ 17.90
Order weight over 0.44kg or 0.97lb

US$ 19.99

US$ 29.99
Order total over $150

FREE
US$ 29.99




Shipping to some countries not qualifies for the free shipping option but costs not over $29.99 for any sized order. Sorry for that, your location is too far.
Stock:

11

Model:

ALL72010

DATE ADDED:

15/09/2014

EAN:

4820122940109

Alliance
Price in reward points: 899