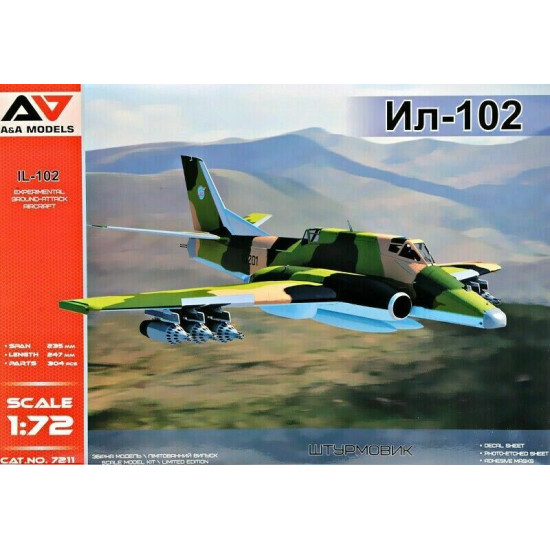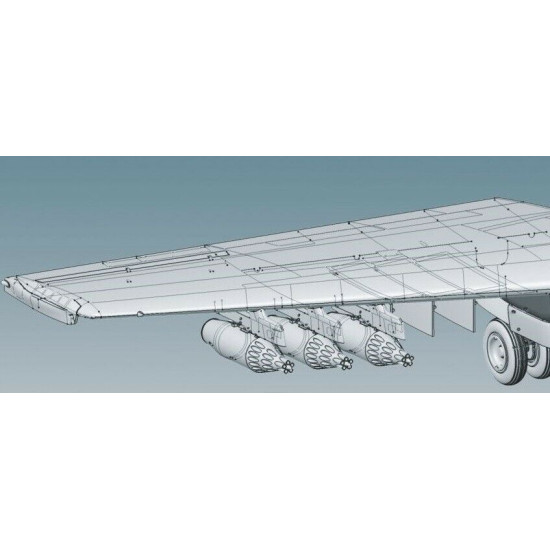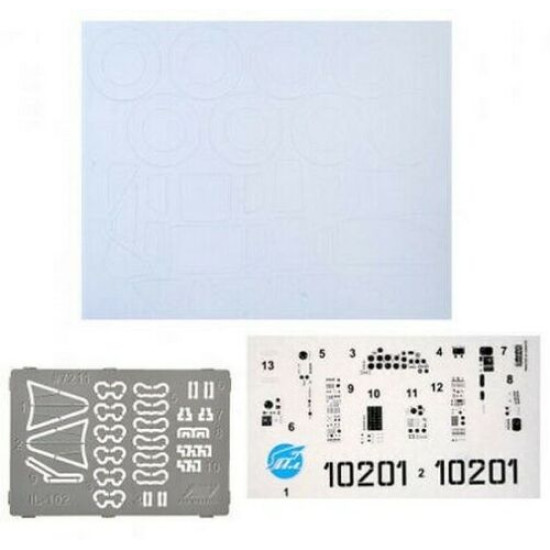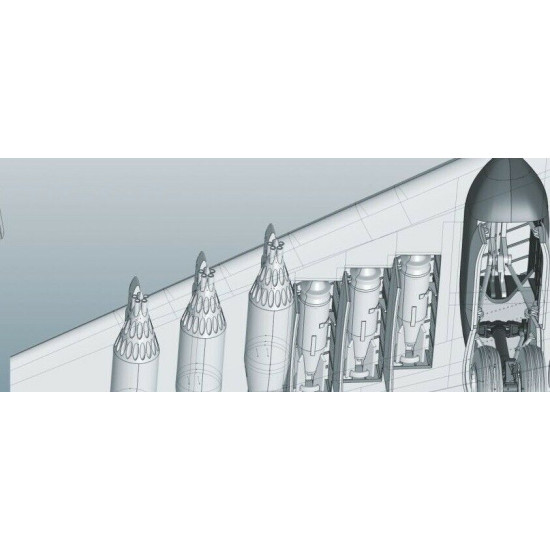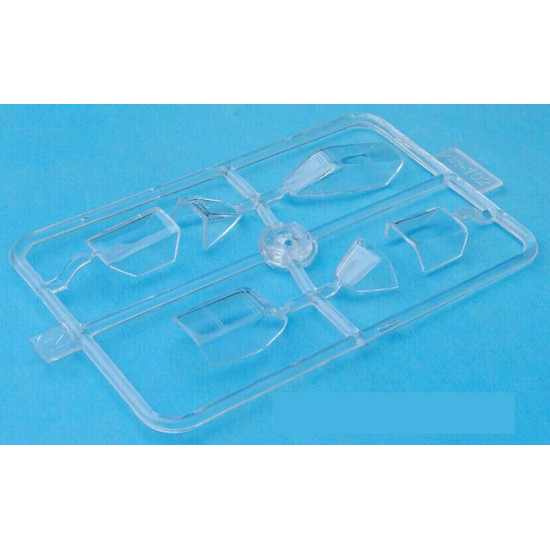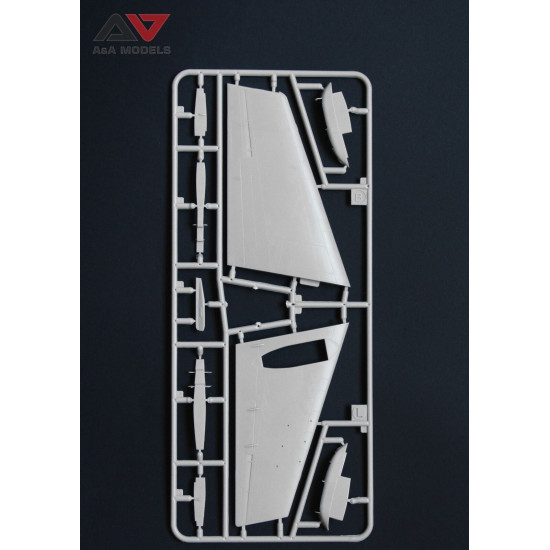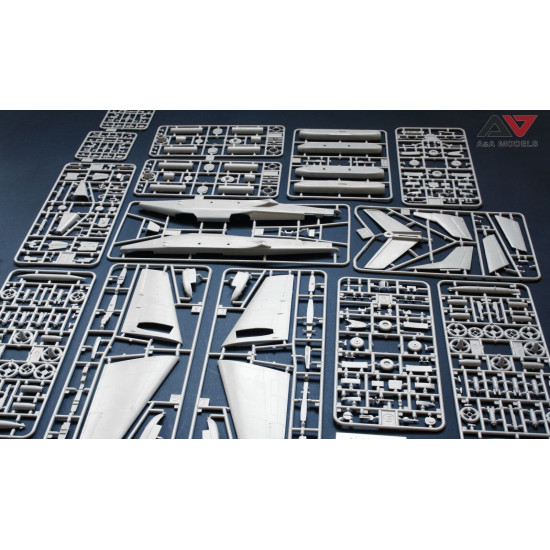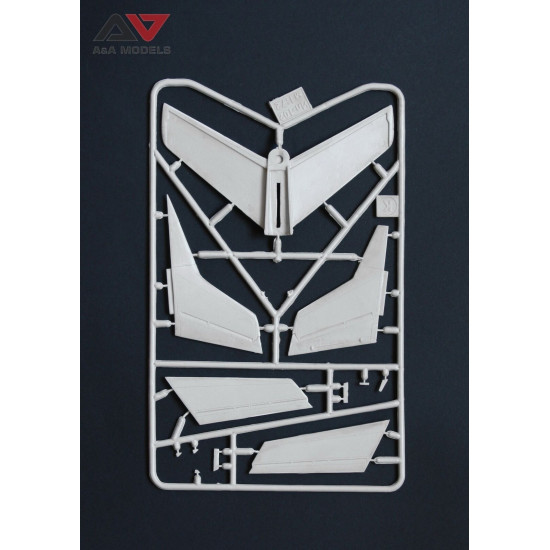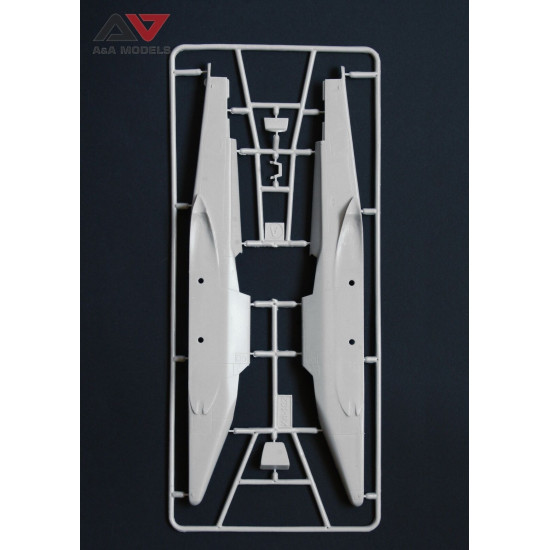 A&A Models AA7211 - 1/72 - IL-102 Experimental ground-attack aircraft
Manufacturer: A&A Models (Ukraine)
Code: 7211
Scale: 1/72
Material: Plastic
Paint: Unpainted, Unassembled, Kit do not contain paints and glue.
Condition: New in Box
Parts: 304
Weight: 0.349kg
Gross weight: 0.495kg
Volume: 0.960kg
Minimum age for modellers:  14+
The length of the model in mm: 235
Wing span, mm: 247
In 1967, the Soviet Air Forces drew up a specification for a jet-powered shturmovik or armoured ground attack aircraft. While Sukhoi designed an all-new single seat aircraft, the Su-25, Ilyushin proposed a modified version of their Il-40 of 1953 under the designation Il-42, which, unlike the Sukhoi, was a two-seat aircraft with a remotely-controlled rear gun turret. The design was rejected by the Soviet Air Forces, but Ilyushin decided to continue development as a private venture, renaming the programme Il-102.
The Il-102 first prototype flew on 25 September 1982, with a second airframe built for static tests, and carried out 250 test flights until it was grounded in 1984 when the engine life expired.
The Il-102 was a low-winged monoplane with moderately swept (30 degrees) wings, powered by two Klimov RD-33I turbofans (non-afterburning versions of the engines that power the Mikoyan MiG-29 fighter). It was highly unusual for its time in having a rear gun turret, something not seen in ground-attack aircraft since the World War II Il-2 Shturmovik and Il-10, the Il-102's spiritual ancestors, controlled remotely by a gunner sitting in a cockpit above the trailing edge of the wing. The crew cockpits, engines and fuel tanks were armoured to protect against ground fire.
Although development was abandoned in 1984, the prototype Il-102 was publicly unveiled at the 1992 Mosaeroshow air show at Zhukovsky, being claimed to be available for export.[3] As of 2005, the prototype was mounted on a pedestal and placed on display at the Gromov Flight Research Institute.
The kit includes:
- 304 plastic parts
- adhesive masks 
- photo-etched set
- decal sheet
- detailed instructions in Russian and English.
We have the lowest worldwide shipping. And it's totally simple.
EUROPE, USA, CANADA

TURKEY, ISRAEL, EGYPT, UE
CHINA, JAPAN, HK, S.KOREA

AU NZ MX
South America, Asia

Order weight up to 0.22kg or 0.48lb
US$ 8.90
US$ 8.90
Order weight up to 0.44kg or 0.97lb

US$ 13.95

US$ 17.90
Order weight over 0.44kg or 0.97lb

US$ 19.99

US$ 29.99
Order total over $150

FREE
US$ 29.99




Shipping to some countries not qualifies for the free shipping option but costs not over $29.99 for any sized order. Sorry for that, your location is too far.
Stock:

1

Model:

AA7211

DATE ADDED:

09/11/2020

UPC:

827151797715

AA Models
Price in reward points: 4299