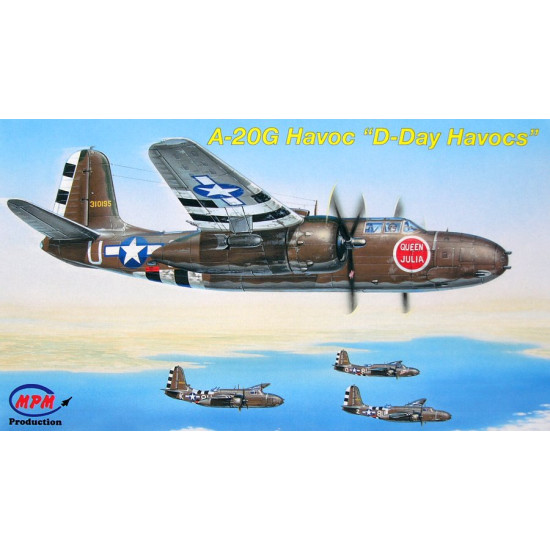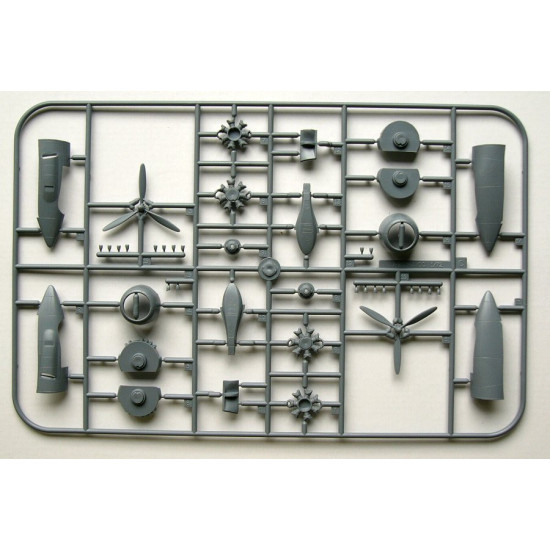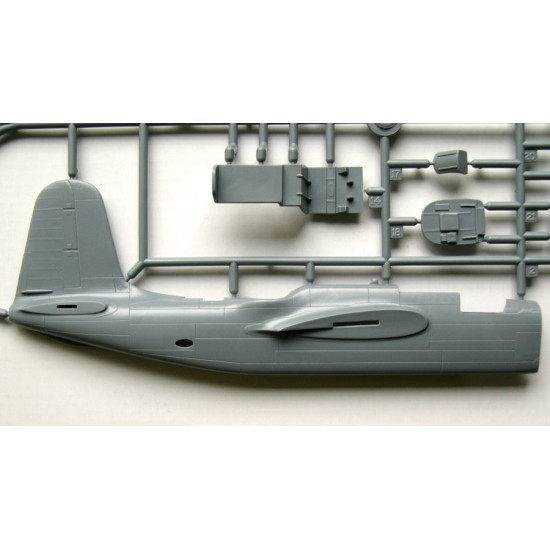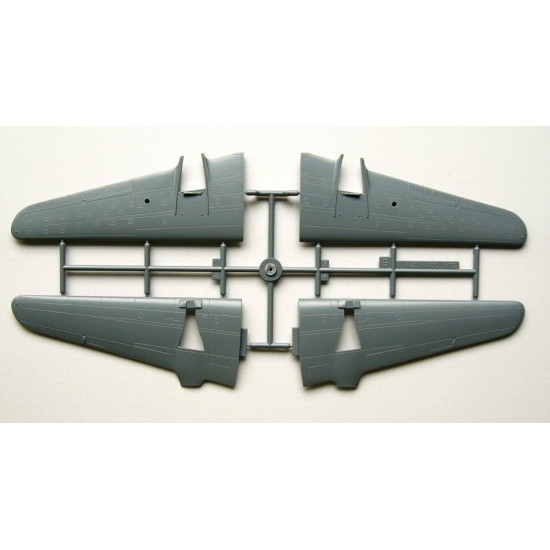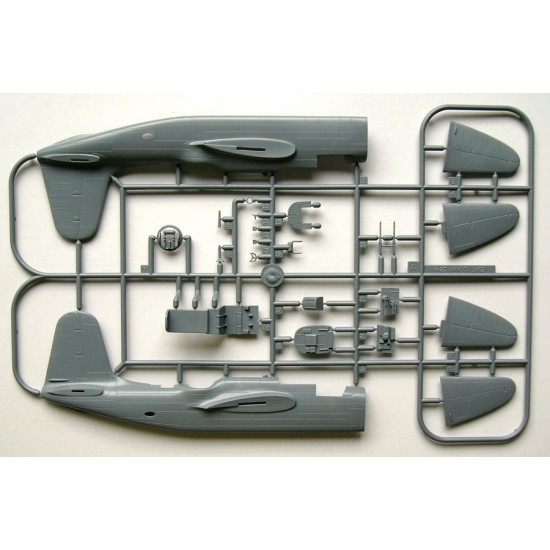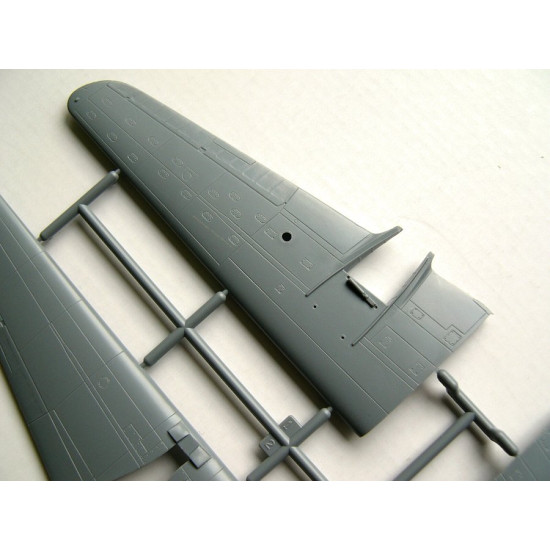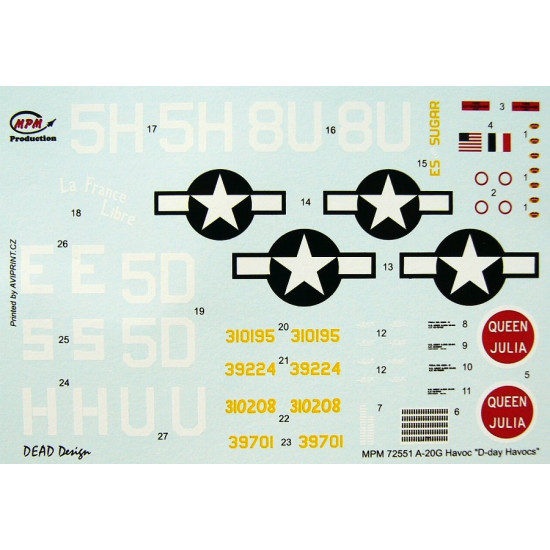 Out Of Stock








Bomber A-20G Havoc
Bomber A-20G Havoc 'D-Day Havocs'
MPM Production 72551
Manufacturer:MPM Production
Scale: 1/72
Material: Plastic+Decals
Paint: Unpainted, Unassembled, Kit do not contain paints and glue.
Condition: New in Box

The Douglas A-20 Havoc (company designation DB-7) was an American attack, light bomber, intruder and night fighter aircraft of World War II. It served with several Allied air forces, principally the United States Army Air Forces (USAAF), the Soviet Air Forces (VVS), Soviet Naval Aviation (AVMF) and the Royal Air Force (RAF) of the United Kingdom. Soviet units received more than one in three (2,908 aircraft) of the DB-7s ultimately built. It was also used by the air forces of Australia, South Africa, France, and the Netherlands during the war, and by Brazil afterwards.In British Commonwealth air forces, bomber/attack variants of the DB-7 were usually known by the service name Boston, while night fighter and intruder variants were usually known as Havoc. An exception to this was the Royal Australian Air Force, which referred to all variants of the DB-7 by the name Boston.The USAAF referred to night fighter variants as P-70.In March 1937, a design team headed by Donald Douglas, Jack Northrop and Ed Heinemann produced a proposal for a light bomber powered by a pair of 450 hp (336 kW) Pratt & Whitney R-985 Wasp Junior radial engines mounted on a high-mounted wing. It was estimated that it could carry a 1,000 lb (454 kg) bomb load at 250 mph (400 km/h). Reports of aircraft performance from the Spanish Civil War indicated that this design would be seriously underpowered, and it was subsequently cancelled.In the autumn of the same year, the United States Army Air Corps issued its own specification for an attack aircraft. The Douglas team, now headed by Heinemann, took the Model 7A design, upgraded with 1,100 hp (820 kW) Pratt & Whitney R-1830 Twin Wasp engines, and submitted the design as the Model 7B. It faced competition from the North American NA-40, the Stearman X-100 and the Martin 167F. The Model 7B was maneuverable and fast, but did not attract any US orders.
The model did, however, attract the attention of a French Purchasing Commission visiting the United States. The Neutrality Act of 1935 at the time forbade the sale of arms, including aircraft, to any nation at war, and President Roosevelt had just issued a call both for its revision and a rearmament program for the Air Corps. Aided by the Treasury Department's Procurement Division (headed by retired Naval officers) and Secretary of the Treasury Henry Morgenthau, Jr., the French discreetly participated in the flight trials, so as not to attract criticism from American isolationists. The Air Corps, which controlled the aircraft's development, but had been excluded from negotiations between the French, the Production Division, and the Navy's Bureau of Aeronautics, was directed by the White House on 19 January 1939 to release the DB-7 for assessment in contradiction of its own regulations. The "secret" was revealed when the Model 7B crashed on 23 January while demonstrating single-engine performance. The French were still impressed enough to order 100 production aircraft, with the order increased to 270 when the war began. Sixteen of those had been ordered by Belgium for its Aviation Militaire.When DB-7 series production finally ended on 20 September 1944, a total of 7,098 had been built by Douglas and a further 380 by Boeing. Douglas redesigned its Santa Monica plant to create a mechanized production line to produce A-20 Havocs. The assembly line was over a mile long (6,100 feet), but by looping back and forth, fit into a building that was only 700 feet long. Man-hours were reduced by 50% for some operations. Production tripled.The French order called for substantial modifications, resulting in the DB-7 (for Douglas Bomber 7) variant. It had a narrower, deeper fuselage, 1,000 hp (746 kW) Pratt & Whitney R-1830-SC3-G radials, French-built guns, and metric instruments. Midway through the delivery phase, engines were switched to 1,100 hp (820 kW) Pratt & Whitney R-1830-S3C4-G. The French designation was DB-7 B-3 (the B-3 signifying "three-seat bomber").
The DB-7s were shipped in sections to Casablanca for assembly and service in France and French North Africa. When the Germans attacked France and the Low Countries on 10 May 1940, the 64 available DB-7s were deployed against the advancing Germans. Before the armistice they were evacuated to North Africa to avoid capture by German forces. Here, they fell under control of the Vichy government, but saw practically no action against the Allies except briefly during the Allied invasion of North Africa. After French forces in North Africa had sided with the Allies, DB-7s were used as trainers and were replaced in front line units by Martin B-26 Marauders. In early 1945, a few DB-7s were moved back to France where they saw action against the remaining isolated German pockets on the western coast.
We have lowest worldwide shipping. And it's totally simple.
| | |
| --- | --- |
| Order weight up to 0.25kg or 0.55lb | $8.90 |
| Order weight up to 0.5kg or 1.1lb | $13.95 |
| Order weight over 0.5kg or 1.1lb | $19.99 |
| Order total over $150 | FREE |
| Order total over $150 to Australia, New Zealand, Brazil, Chile, Peru, India, Indonesia, Malaysia, Thailand | $19.99 |
Shipping to some countries not qualifies for free shipping option but cost not over than $19.99 for any sized order. Sorry for that, your location is too far.
Stock:

Out Of Stock

Model:

MPM72551

Weight:

1.75lb

DATE ADDED:

20/10/2014
Price in reward points: 5099