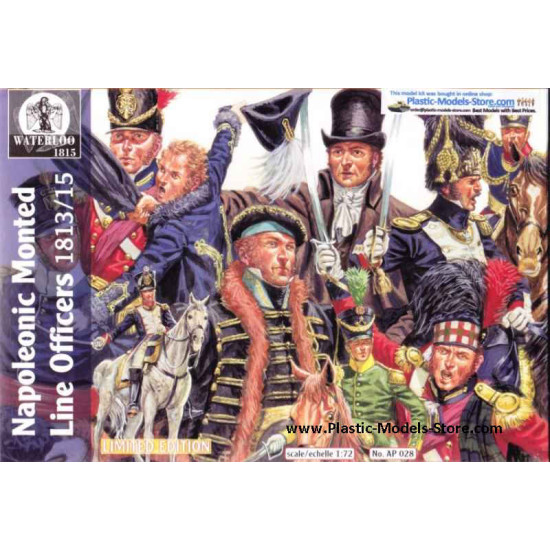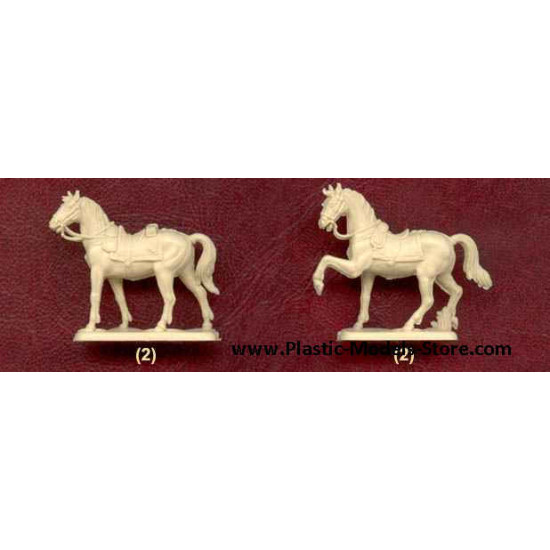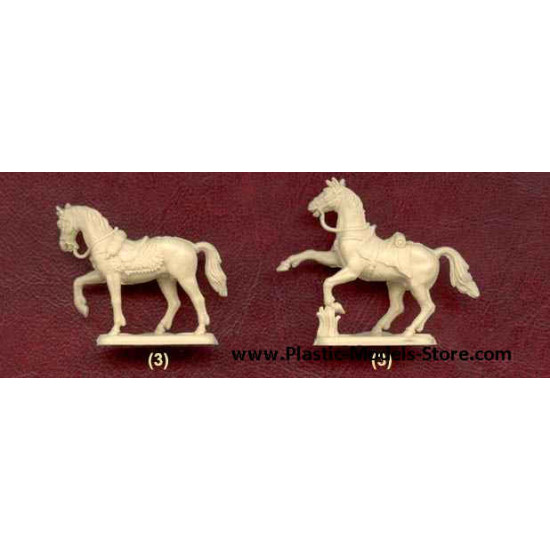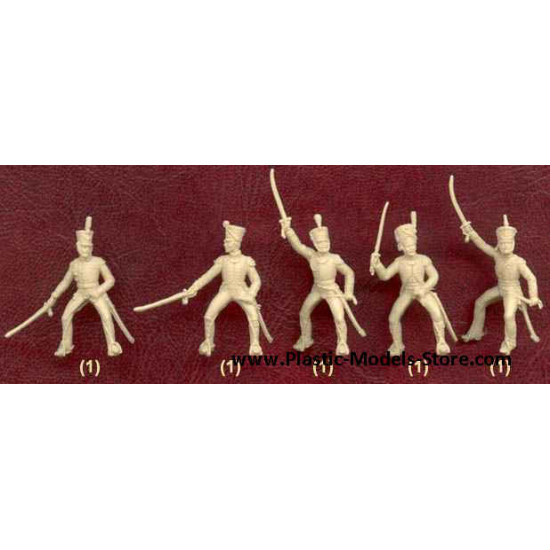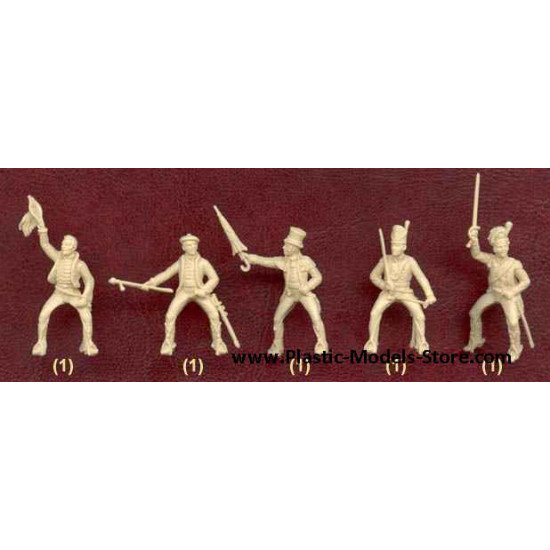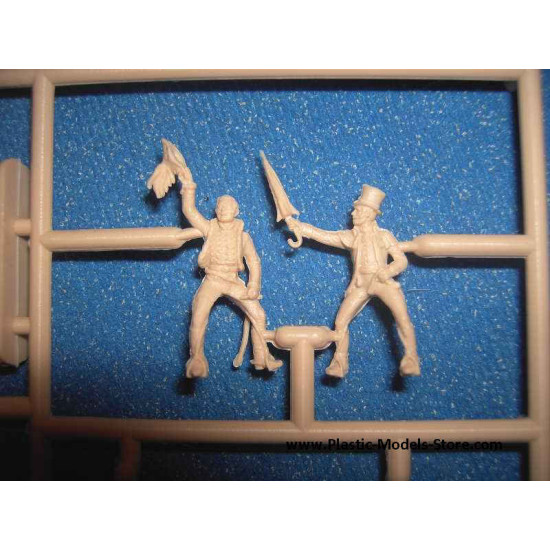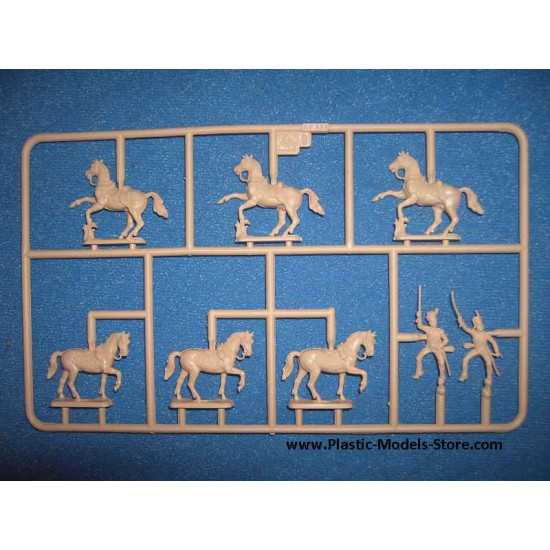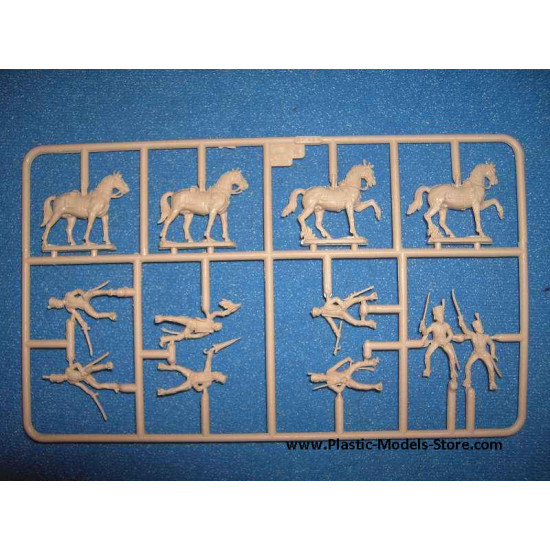 Out Of Stock








Napoleonic Mounted Line Officers 1/72 Waterloo 1815 AP028
Napoleonic Mounted Line Officers
1/72 scale plastic model kit
WATERLOO 1815 AP 028
LIMITED EDITION
Manufacturer: Waterloo 1815 (Italy)
Scale: 1/72
Material: Plastic
Paint: Unpainted, assembled, Kit do not contain paints and glue.
Condition: New in Box
| | |
| --- | --- |
| Date Released | 2009 |
| Contents | 10 figures and 10 horses |
| Poses | 10 poses, 4 horse poses |
| Material | Plastic (Fairly Hard) |
| Colours | Light Tan |
| | |
| --- | --- |
| Average Height | 25 mm (= 1.8 cm) |
Review

While there are many sets of Napoleonic figures on the market very few have mounted officers (apart from cavalry). This is because such a figure plus horse takes up room on the sprue and generally only one such pose would be required per box. Therefore most sets limit themselves to junior officers on foot. Yet most senior officers were almost always to be found mounted. In part this is simply because a gentlemen would expect to be mounted rather than on foot like the common soldiery, so it was to a large extent a mark of their social as well as military status. However it also had the practical benefits of allowing them a potentially better view of the events around them and allowing them to move more quickly, while also making it easier for the men to see them.

Having established that all Napoleonic armies had many mounted officers, and that very few have been made thus far, this set from Waterloo 1815 is clearly intended to partly fill that gap. The box makes no attempt to identify what any of the figures are intended to represent, although the excellent artwork does provide clues. We have made specific identifications which we list below, and we have used these as a basis for our review. It seems that some of the figures are specific individuals, so we will discuss each figure individually, reading from left to right, as pictured above.

Row 1
William, Prince of Orange (1792-1849) entered the British army in 1811 after his family had been forced to flee their native Holland when the French invaded. He took part in the Peninsular War and also in the Waterloo campaign, where he commanded at both Quatre Bras and Waterloo. He is known to have indicated an advance at Quatre Bras by waving his hat, and this pose closely resembles at least one portrait of him by Nicaise de Keyser depicting that event. The hussar-style uniform also closely follows the portrait, and seems to fit with what is known of his apparel at the time, so this is a good model.
Frederick William, Duke of Brunswick (1771-1815) was a relentless opponent of Napoleon and was killed at Quatre Bras leading his Brunswicker troops. On that day his uniform is uncertain but generally thought to be hussar-like in style, with an undress hussar cap on his head, and is usually depicted much as shown on this figure. Strangely he has been given a cane, which would be both pointless while mounted and impede his ability to draw his sword if necessary. Nonetheless another good figure.
Lieutenant-General Sir Thomas Picton (1758-1815) had served with distinction for many years, including service in Spain, and came out of retirement to participate in the Waterloo campaign. He famously wore civilian costume throughout the Hundred Days, and was often described with umbrella in hand, hence our identification of this figure. Picton was killed at Waterloo leading the 5th British Infantry Division against d'Erlon's assault. This figure has authentic gentleman's attire and the top hat Picton was wearing when he was killed (which still exists today).
British Officer. This man is fairly typical of a British infantry officer and is dressed as per regulation. However his sword, which was normally suspended from a belt over the right shoulder, is here hanging from a waistbelt, which merely reflects that some officers wore whatever suited them. This man also has a belt over his left shoulder which carries nothing apart from his whistle and chain. We can find no reference to a crossbelt over the left shoulder (apart from the not always reliable Pericoli book mentioned below) and must wonder what purpose it serves as he has no pouch or other item on it. His jacket is also buttoned up all the way at the front, which was not unheard of but not the norm. We would have much preferred a typical officer rather than this.
Highland Officer. Another nice figure, this chap wears breeches and a version of the fly plaid known as the 'highland scarf'. His sword is suspended from a crossbelt across his right shoulder, as it should be, but sadly this belt disappears at the shoulder and is entirely missing at the back, just like the equally unfortunate officer in the Airfix Highland Infantry set! Also we were surprised to see Hessian boots on this man. Again not impossible but not common and we would have preferred the most typical appearance here.
Row 2
Netherlands Officer. This man is mainly clothed in typical officer's uniform for the Netherlands, although we were surprised that he wears no sash around the waist. Also this man has some sort of cord or chain running from behind his right epaulette to a buttonhole on his jacket. What this is we cannot guess, but it is neither an aiguillette nor a pocketwatch chain.
French Officer. This is a great figure and the kind of thing we were expecting throughout the set. He is correctly dressed and includes his gorget.
French Officer. Again a very useful and accurate figure. This man has chosen to wear a single-breasted surcoat, which was a common choice at the time.
French Imperial Guard Officer. This was a real surprise as the box clearly states the set is line officers. Still the figure is very good and this is the first time such an officer in full uniform has been done.
Nassau Jäger Officer. This man wears a shako and uniform of French style, which is correct despite no longer serving with the French at this time. However he too has a belt over his left shoulder that performs no function at all, and some sort of chain around his right shoulder that disappears at the front.
The set includes the horses shown, but no attempt is made to match any animal with a specific man. Indeed the saddlecloths are fairly generic Napoleonic and it is for the customer to decide which figures they may wish to pair. Apart from the one rearing pose all the rest are in appropriate relaxed poses and very nicely done.

The sculpting of these figures is superb, and very reminiscent of the earlier Italeri sets, which themselves closely followed the old Esci style. The proportions are excellent and the poses lifelike and useful. Every man fits their mount beautifully. Whoever made the mould has rather spoiled the party however as there are some areas where the two halves do not meet correctly, causing some distortion along the seam - this is particularly galling on the figures who's head is in profile. Also there is some flash but not much.

While these figures are a master class in the art of sculpting they suffer some frustrating errors in accuracy, made all the worse by the box artwork, which is without fault and again suggests the artist knows his business better than the figure designer. However all the errors are fairly minor and with some work there is plenty of scope for utilising most of these figures for many armies of the period. Definitely a boon for those interested in Napoleonic warfare and well worth getting hold of.
We have lowest worldwide shipping. And it's totally simple.
| | |
| --- | --- |
| Order weight up to 0.25kg or 0.55lb | $8.90 |
| Order weight up to 0.5kg or 1.1lb | $13.95 |
| Order weight over 0.5kg or 1.1lb | $19.99 |
| Order total over $150 | FREE |
| Order total over $150 to Australia, New Zealand, Brazil, Chile, Peru, India, Indonesia, Malaysia, Thailand | $19.99 |
Shipping to some countries not qualifies for free shipping option but cost not over than $19.99 for any sized order. Sorry for that, your location is too far.
Stock:

Out Of Stock

Model:

WATERLOOAP028

Weight:

0.35lb

DATE ADDED:

16/04/2009

Waterloo 1815
Price in reward points: 1495