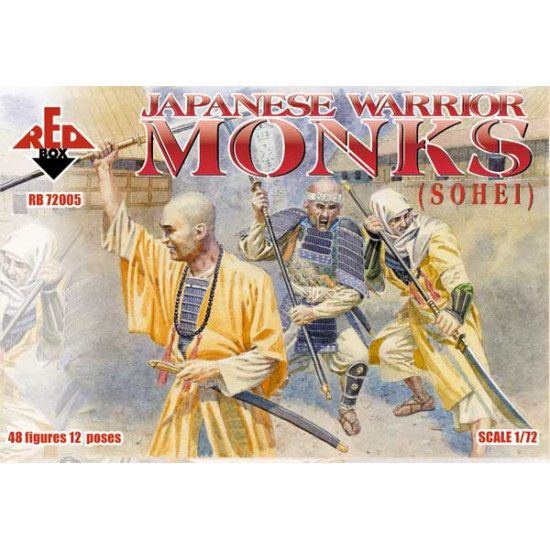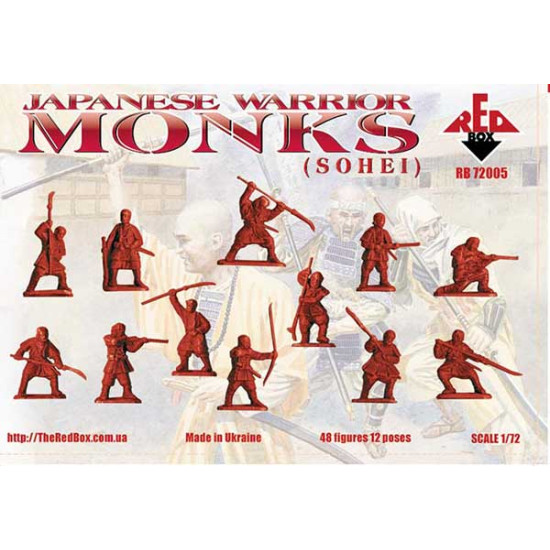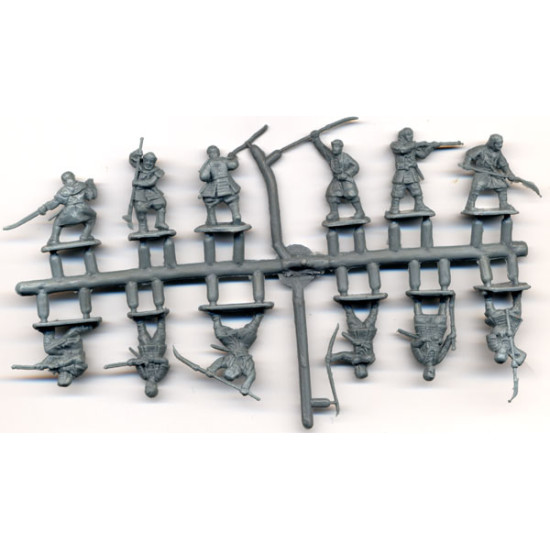 Japanese Warrior Monks (Sohei) 1/72 RED BOX 72005
Japanese Warrior Monks (Sohei) 
1/72 scale plastic model kit
Red Box 72005
Manufacturer: Red Box 
Scale: 1/72
Material: Plastic
Condition: New in Box
 
Sōhei (僧兵 literally "monk warriors";?, fighting monks) were Buddhist warrior monks of feudal Japan. At certain points of history they held considerable power, obliging the imperial and military governments to collaborate.Even novice Buddhist monks take the ten precepts, the first of which is to refrain from killing. So though called monks, they weren't Buddhist monks in the normal sense as in someone who takes and keeps to the vows of a monk in the Buddhist tradition.
The prominence of the sōhei rose in parallel with the ascendancy of the Tendai school's influence between the 10th and 17th centuries. The warriors protected land and intimidated rival schools of Buddhism, becoming a significant factor in the spread of Buddhism and the development of different schools during the Kamakura period.They were similar to the mountain ascetic yamabushi warrior monks, but unlike the solitary yamabushi, sōhei generally organized into large armies or mobs. A famous monastery is the Enryaku-ji on Mount Hiei, just outside Kyoto.
The sōhei shared many similarities with the Western lay brothers, members of a monastic order who might not have been ordained. Much like the Teutonic Knights, the warrior monks of Germany, and the crusading orders, sōhei did not operate as individuals, or even as members of small, individual temples, but rather as warriors in a large extended brotherhood or monastic order. The 'home temple' of a sōhei monastic order might have had several, if not dozens or a hundred, smaller monasteries, training halls, and subordinate temples connected to it.
We have lowest worldwide shipping. And it's totally simple.
| | |
| --- | --- |
| Order weight up to 0.25kg or 0.55lb | $8.90 |
| Order weight up to 0.5kg or 1.1lb | $13.95 |
| Order weight over 0.5kg or 1.1lb | $19.99 |
| Order total over $150 | FREE |
| Order total over $150 to Australia, New Zealand, Brazil, Chile, Peru, India, Indonesia, Malaysia, Thailand | $19.99 |
Shipping to some countries not qualifies for free shipping option but cost not over than $19.99 for any sized order. Sorry for that, your location is too far.
Stock:

2

Model:

RB72005

DATE ADDED:

23/10/2014

Red Box
Price in reward points: 854