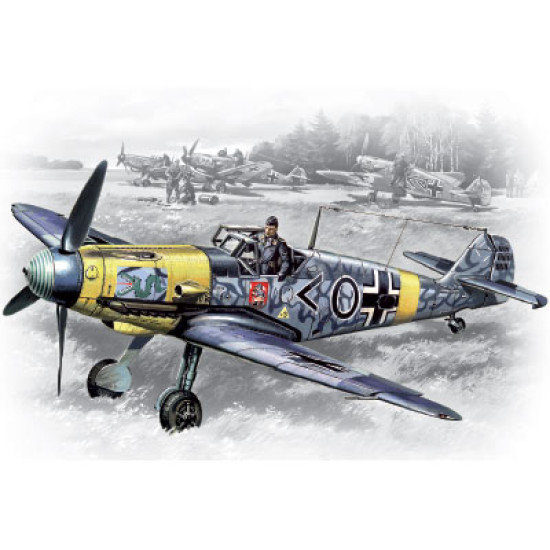 Bf 109F-2 Fighter 1/48 ICM 48102
Bf 109F-2 Fighter 
1/48 military aircraft fighter scale plastic model kit
ICM 48102  
High-quality details.
Manufacturer: ICM Models (Ukraine)
Scale: 1/48
Material: Plastic
Paint: Unpainted, Unassembled, Kit do not contain paints and glue.
Condition: New in Box
The Messerschmitt Bf 109, often called Me 109 (most often by Allied pilots and aircrew), was a German World War II fighter aircraft designed by Willy Messerschmitt and Robert Lusser during the early to mid-1930s. It was one of the first truly modern fighters of the era, including such features as all-metalmonocoque construction, a closed canopy, a retractable landing gear, and was powered by a liquid-cooled, inverted-V12 aero engine.
The Bf 109 first saw operational service during the Spanish Civil War and was still in service at the dawn of the jet age at the end of World War II, during which time it was the backbone of the Luftwaffe's fighter force. From the end of 1941 the Bf 109 was supplemented by the Focke-Wulf Fw 190.
Originally conceived as an interceptor, later models were developed to fulfill multiple tasks, serving as bomber escort, fighter-bomber, day-, night-, all-weather fighter, ground-attack aircraft, and as reconnaissance aircraft. It was supplied to and operated by several states during World War II, and served with several countries for many years after the war. The Bf 109 was the most produced fighter aircraft in history, with a total of 33,984 airframes produced from 1936 up to April 1945.
The Bf 109 was flown by the three top-scoring German fighter aces of World War II, who claimed 928 victories among them while flying withJagdgeschwader 52, mainly on the Eastern Front, as well as by Hans-Joachim Marseille, the highest scoring German ace in the North African Campaign. It was also flown by several other aces from Germany's allies, notably Finn Ilmari Juutilainen, the highest scoring non-German ace on the type with 58 victories flying the Bf 109G, and pilots from Italy, Romania, Croatia, Bulgaria andHungary. Through constant development, the Bf 109 remained competitive with the latest Allied fighter aircraft until the end of the war.
After Luftwaffe acceptance trials were completed at their central Erprobungsstelle military aviation test and development facility atRechlin, the prototypes were moved to the similar E-Stelle facility at Travemünde for the head-to-head portion of the competition. The aircraft participating in the trials were the Arado Ar 80 V3, the Focke-Wulf Fw 159 V3, the Heinkel He 112 V4 and the Bf 109 V2. The He 112 arrived first, in early February 1936, followed by the rest of the prototypes by the end of the month.
Because most fighter pilots of the Luftwaffe were used to biplanes with open cockpits, low wing loading, light g-forces and easy handling like the Heinkel He 51, they were very critical of the Bf 109 at first. However, it soon became one of the frontrunners in the contest, as the Arado and Focke-Wulf entries, which were intended as "back-up" programmes to safeguard against failure of the two favourites, proved to be completely outclassed. The Arado Ar 80, with its gull wing (replaced with a straight, tapered wing on the V3) and fixed,spatted undercarriage was overweight and underpowered, and the design was abandoned after three prototypes had been built. Theparasol winged Fw 159, potentially inspired by the same firm's earlier Focke-Wulf Fw 56, was always considered by the E-StelleTravemünde facility's staff to be a compromise between a biplane and an aerodynamically more efficient, low-wing monoplane. Although it had some advanced features, it used a novel undercarriage which proved to be unreliable.[
In July 1937, not long after the public debut of the new fighter, three Bf 109Bs took part in the Flugmeeting airshow in Zürich under the command of Major Seidemann. They won in several categories: First Prize in a speed race over a 202 km course, First Prize in the Class A category in the international Alpenrundflug for military aircraft, and victory in the international Patrouillenflug category. On 11 November 1937, the Bf 109 V13 flown by Messerschmitt's chief pilot Dr. Hermann Wurster, powered by a 1,650 hp (1,230 kW) DB 601R racing engine, set a new world air speed record for landplanes with piston engines of 610.55 km/h (379.38 mph), winning the title for Germany for the first time. Converted from a Bf 109D, the V13 had been fitted with a special racing DB 601R engine that could deliver 1,650 hp (1,230 kW) for short periods.
Heinkel, having had the He 112 rejected in the design competition of 1936, designed and built the He 100. On 6 June 1938, the He 100 V3, flown by Ernst Udet, captured the record with a speed of 634.7 km/h (394.4 mph). On 30 March 1939, test pilot Hans Dieterle surpassed that record, reaching 746.61 km/h (463.92 mph) with the He 100 V8. Messerschmitt, however, soon regained the lead when, on 26 April 1939, Flugkapitän Fritz Wendel, flying the Me 209 V1, set a new record of 755.14 km/h (469.22 mph). For propaganda purposes, the machine was called the Bf 109R, suggesting it was just another variant of the standard fighter, but in fact it was a racing aircraft having little in common with the Bf 109. It was powered by the DB 601ARJ, producing 1,156 kW (1,550 hp), but capable of reaching 1,715 kW (2,300 hp). This world record for a piston-engined aircraft was to stand until 1969, when Darryl Greenamyer's modified Grumman F8F Bearcat, Conquest I, broke it with a 777 km/h (483 mph) record speed.
Bf 109
Restored Messerschmitt Bf 109G-6
Role
Fighter
Manufacturer
Bayerische Flugzeugwerke
Messerschmitt
Designer
Willy Messerschmitt, Robert Lusser
First flight
29 May 1935
Introduction
1937
Retired
1945, Luftwaffe
1965, Spanish Air Force
Primary users
Luftwaffe
Hungarian Air Force
Italian Social Republic Air Force
Royal Romanian Air Force
Number built
33,984
+239 HA-1112
+603 Avia S-199
Unit cost
42,900 RM
(G-6, Erla-Maschinenwerk, 1943)
Variants
Avia S-99/S-199
Hispano Aviacion Ha 1112
We have lowest worldwide shipping. And it's totally simple.
| | |
| --- | --- |
| Order weight up to 0.25kg or 0.55lb | $8.90 |
| Order weight up to 0.5kg or 1.1lb | $13.95 |
| Order weight over 0.5kg or 1.1lb | $19.99 |
| Order total over $150 | FREE |
| Order total over $150 to Australia, New Zealand, Brazil, Chile, Peru, India, Indonesia, Malaysia, Thailand | $19.99 |
Shipping to some countries not qualifies for free shipping option but cost not over than $19.99 for any sized order. Sorry for that, your location is too far.
Stock:

1

Model:

ICM48102

DATE ADDED:

27/02/2014

ICM
Price in reward points: 1799