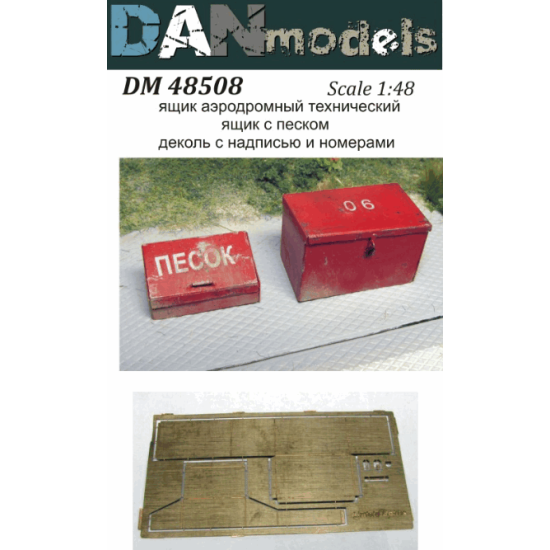 AIRFIELD TECHNICAL DRAWER, A BOX OF SAND AND DECALS 1/48 DAN MODELS 48508
AIRFIELD TECHNICAL DRAWER, A BOX OF SAND AND DECALS
1/48 Decals
Dan Models 48508
Manufacturer: Dan Models 
Scale: 1/48
Condition: New in Box
Decal (born decal) - " decal " method of indirect transfer printing images with a paper substrate , and a self image . Same and transfer printing . In the printing industry generally - dekol.Izobretatelem decals considered Frenchman Francois Simon engraver equal (Simon Francois Ravenet). Initially, the technology was as follows: the heated copper engraving paint was applied , and it was made a special impression on thick porous ( tissue ) paper produced on paper image was superimposed on the varnished product , the paint stuck to the surface , after which the paper was removed and soaked .
Ravenna in 1750 he moved to England , where he offered his invention, called decalcuer, British industrialists . First ceramic products to put on them decals (decorative tiles) were made in 1756 by Sadlier & Green in Liverpule.V currently own decals are commonly called " decals " on a paper substrate , which are printed on paper with an adhesive layer and a pattern out application that use water - so-called " direct wet " decals. Decals with glue out and face image to the paper called inverse . More common direct decals because they allow good to see the image before applying , just position it in the application process without cutting the image contour . Nevertheless, older technology bezlakovoy feedback decal has its advantages. For example, when applied to the surface of the decal carries only a thin layer of lacquer paint without the substrate , which increases the thickness of the decals and usually extends beyond the outline of the picture . Bezlakovye decals also have a very long shelf life , and lacquer varnish layer gradually degrades - yellowing , brittle or crack is ( formed crackles ) . In some cases we can " repair " decal ultraviolet irradiation and applying a new coat of varnish over degraded .
When applying direct wet decal on the surface with difficult terrain , mainly in scale modeling , often using different liquid softeners and even lacquer coating a substrate surface for better adhesion . After applying the decals are often covered by a protective layer of varnish.
In industrial production are widely used "hot" decal , after which the surface is exposed to the application of heat. When exposed to high temperatures lacquer substrate burns , and the image on the basis of special mineral paints fused into poverhnost.Dekali used in industry for decorating and marking a wide variety of products. In everyday life - mainly for interior decoration (in the USSR were particularly popular in the 1980s ) . Separate application of decals is currently the most common in stand modeling , where they simulate marking technology prototypes and even some elements of uniform figures. The vast majority of currently shipping models equipped with decals issued by industrial way , individual modelers also produce homemade decals , causing the image to a printer or manually on a special decal paper. Also apply decals to decorate the human body and are applied to the nails or skin ( temporary tattoo ) .
We have lowest worldwide shipping. And it's totally simple.
| | |
| --- | --- |
| Order weight up to 0.25kg or 0.55lb | $8.90 |
| Order weight up to 0.5kg or 1.1lb | $13.95 |
| Order weight over 0.5kg or 1.1lb | $19.99 |
| Order total over $150 | FREE |
| Order total over $150 to Australia, New Zealand, Brazil, Chile, Peru, India, Indonesia, Malaysia, Thailand | $19.99 |
Shipping to some countries not qualifies for free shipping option but cost not over than $19.99 for any sized order. Sorry for that, your location is too far.
Stock:

9

Model:

DAN48508

Weight:

0.12lb

DATE ADDED:

07/09/2017

Dan Models
Price in reward points: 895