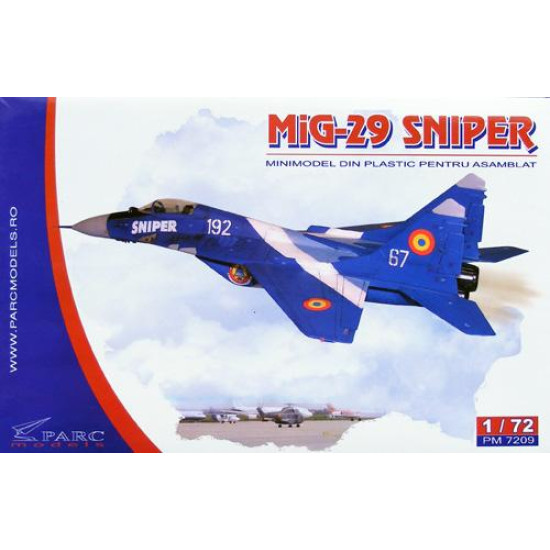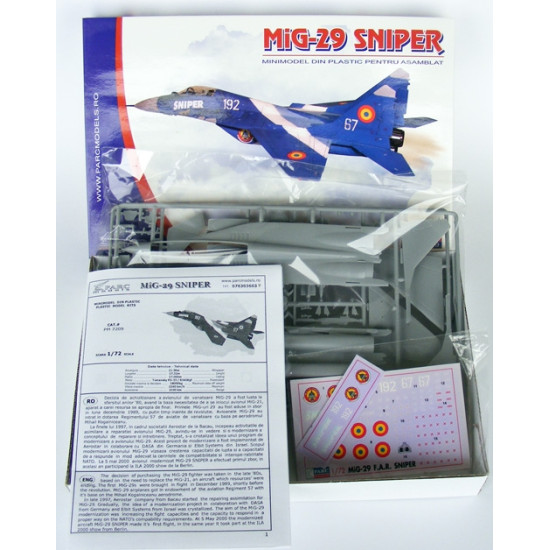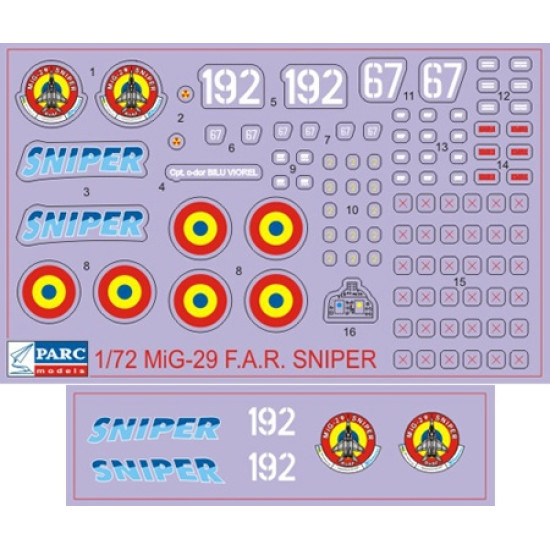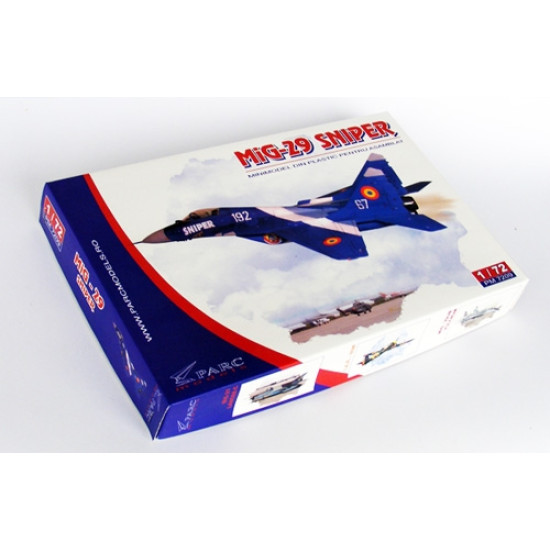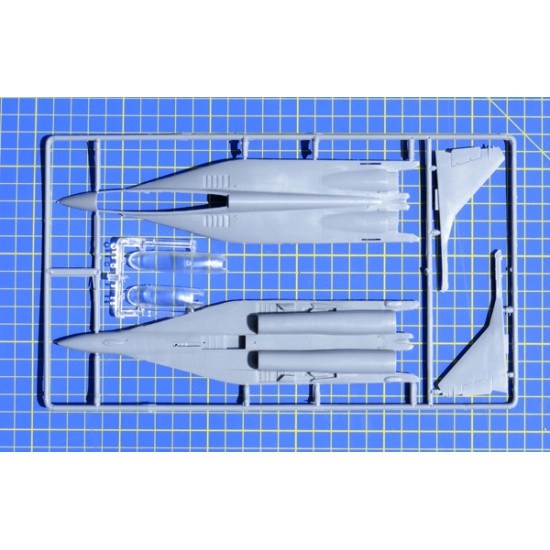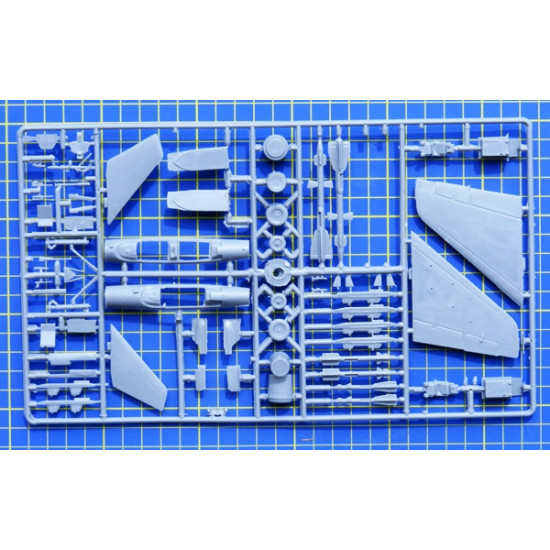 MiG-29 SNIPER 1/72 PARC MODELS PARC7209
MiG-29 SNIPER 
1/72 scale plastic model kit
Parc Models PARC7209
Manufacturer: Parc Models 
Scale: 1/72
Material: Plastic
Condition: New in Box
 
The Mikoyan MiG-29 (Russian: Микоян МиГ-29; NATO reporting name: "Fulcrum") is a fourth-generation jet fighter aircraft designed in the Soviet Union. Developed by the Mikoyan design bureau as an air superiority fighterduring the 1970s, the MiG-29, along with the larger Sukhoi Su-27, was developed to counter new American fighters such as the McDonnell Douglas F-15 Eagle, and the General Dynamics F-16 Fighting Falcon. The MiG-29 entered service with the Soviet Air Force in 1983.
While originally oriented towards combat against any enemy aircraft, many MiG-29s have been furnished as multirole fighters capable of performing a number of different operations, and are commonly outfitted to use a range of air-to-surface armaments and precision munitions. The MiG-29 has been manufactured in several major variants, including the multirole Mikoyan MiG-29M and the navalised Mikoyan MiG-29K; the most advanced member of the family to date is the Mikoyan MiG-35. Later models frequently feature improved engines, glass cockpits with HOTAS-compatible flight controls, modern radar and IRST sensors, considerably increased fuel capacity; some aircraft have also been equipped for aerial refuelling.
Following the dissolution of the Soviet Union, a number of successor states have continued to operate the MiG-29; the largest of which is the Russian Air Force. The Russian Air Force wanted to upgrade its existing fleet to the modernised MiG-29SMT configuration, but financial difficulties have limited deliveries. The MiG-29 has also been a popular export aircraft; more than 30 nations either operate or have operated the aircraft to date, India being one of the largest export operators of the type. As of 2013, the MiG-29 is in production by Mikoyan, a subsidiary of United Aircraft Corporation (UAC) since 2006.n the West, the new fighter was given the NATO reporting name "Fulcrum-A" because the pre-production MiG-29A, which should have logically received this designation, remained unknown in the West at that time. The Soviet Union did not assign official names to most of its aircraft, although nicknames were common. Unusually, some Soviet pilots found the MiG-29's NATO reporting name, "Fulcrum", to be a flattering description of the aircraft's intended purpose, and it is sometimes unofficially used in Russian service.
The MiG-29B was widely exported in downgraded versions, known as MiG-29B 9-12A andMiG-29B 9-12B for Warsaw Pact and non-Warsaw Pact nations respectively, with less capable avionics and no capability for delivering nuclear weapons. Total production was about 840 aircraft.
In the 1980s, Mikoyan developed the improved MiG-29S to use longer range R-27E and R-77air-to-air missiles. It added a dorsal 'hump' to the upper fuselage to house a jamming system and some additional fuel capacity. The weapons load was increased to 4,000 kg (8,800 lb) with airframe strengthening. These features were included in new-built fighters and upgrades to older MiG-29sn 11 December 2013, Russian deputy prime minister Dmitry Rogozin revealed that Russia is planning to build a new lightweight fighter to replace the MiG-29. Fighters like the Sukhoi Su-27 and its derivatives are to be replaced in Russian service by the Sukhoi PAK FA, but a different design is needed to replace the lighter MiGs. A previous attempt to develop a MiG-29 replacement, the MiG 1.44 demonstrator, failed in the 1990s. The concept came up again in 2001 with interest from India, but they later opted for a variant of the PAK FA. The lightweight fighter will be cheaper and easier to maintain than the PAK FA, while still able to match the performance of larger and heavier aircraft. Air Force commanders have hinted at the possibility of an single-engine airframe that uses the PAK FA's engine, radar, and weapons. Though primarily for Russian service, export opportunities are possible, as heavier planes like to PAK FA have been harder to sell before. It is currently unknown who will design and manufacture the proposed fighter.
MiG-29
Serbian Air Force and Air Defence MiG-29 takeoff
Role
Air superiority fighter, multirole fighter
National origin
Soviet Union
Russia
Manufacturer
Mikoyan
First flight
6 October 1977
Introduction
July 1983
Status
In service
Primary users
Russian Air Force
Indian Air Force
Ukrainian Air Force
See Operators below for others
Produced
1982–present
Number built
1,600+
Unit cost
US$11 million (MiG-29B, 1984, 1999)
US$29 million (average cost, 2009)
We have lowest worldwide shipping. And it's totally simple.
| | |
| --- | --- |
| Order weight up to 0.25kg or 0.55lb | $8.90 |
| Order weight up to 0.5kg or 1.1lb | $13.95 |
| Order weight over 0.5kg or 1.1lb | $19.99 |
| Order total over $150 | FREE |
| Order total over $150 to Australia, New Zealand, Brazil, Chile, Peru, India, Indonesia, Malaysia, Thailand | $19.99 |
Shipping to some countries not qualifies for free shipping option but cost not over than $19.99 for any sized order. Sorry for that, your location is too far.
Stock:

1

Model:

PARC7209

Weight:

0.38lb

DATE ADDED:

15/09/2014
Price in reward points: 1299