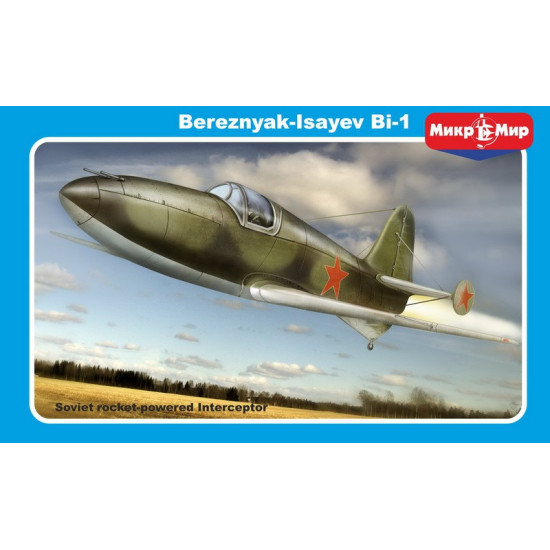 Bi-1 Soviet rocket-powered interceptor 1/48 Micro-Mir MM48-010
 Bi-1 Soviet rocket-powered interceptor 
1/48
Micro-Mir MM48-010 
Manufacturer: Micro-Mir (Ukraine)
Scale: 1/48
Material: Plastic
Paint: Unpainted, Unassembled, Kit do not contain paints and glue.
Condition: New in Box


Soviet research and development of rocket-powered aircraft began with Sergey Korolev's GIRD-6 project in 1932. His interest in stratospheric flight was also shared by Marshal Mikhail Tukhachevsky who supported this early work. After a long series of unmanned tests of vehicles, Korolev's RP-318-1 rocket plane flew on Feb 28, 1940. That Spring, the Zhukovsky Institute in Moscow (TsAGI) hosted a conference for aircraft chief designers on the subject of ramjet and rocket propulsion. On July 12, the Council of People's Commissioners (SNK) called for the development of high-speed stratospheric aircraft.Aircraft designer and head of OKB-293, Viktor Fedorovich Bolkhovitinov attended the TsAGI conference along with two of his top engineers, A. Ya. Bereznyak and A. M. Isaev. The young Bereznyak had made an impression in 1938 with a high-speed airplane design that some thought could break the world speed record. Bereznyak and Isaev were excited by the idea of designing a rocket-powered aircraft, and their "patron" Bolkhovitinov approved. By the Autumn of 1940, they were able to show fellow engineer Boris Chertok a preliminary design of "Project G". The design, made up mostly from plywood and duralumin had a take-off weight of 1500 kg, and they planned to use the new 1400 kgf rocket engine under development in the Jet Propulsion Research Institute (RNII). Chertok was astounded that the aircraft could almost climb vertically.
Bereznyak, Isaev and Chertok visited RNII in March 1941, but the new rocket engine was not working yet. The engine was designed by Leonid Dushkin, who had made the engine (RD-A-150) for RP-318-1. Powered by tractor kerosene and red fuming nitric acid, it fell short of the hoped for 1400 kgf of thrust. Designated D-1-A-1100, it was expected to reach 1100 kgf. The "A" stood for "Nitric" (versus "Oxygenic"), a distinction of unusual importance and controversy among Soviet rocket scientists. Dushkin's propellant pump was causing considerable problems. It was a turbine pump driven by hot gas and steam from a small combustion chamber fed with rocket propellants mixed with water. This system was perfected a few years later in Dushkin's RD-2M engine.
The D-1-A-1100 was built from carbon steel with diffusion chrome plating. At this point in time, Russian rocket engines were built with typical aviation piston-engine manufacturing technology. Weighing 48 kg, it could be broken down into discrete forged-steel sections – a conical head with 60 centrifugal injectors, the cylindrical chamber, and the nozzle – joined with bolts and copper gaskets. It was ignited with a nichrome glow plug, later replaced with silicon-carbide. The engine was cooled regeneratively by both propellants, the chamber walls by a spiral flow of incoming fuel, and the nozzle section by the flow of oxidizer.
We have lowest worldwide shipping. And it's totally simple.
| | |
| --- | --- |
| Order weight up to 0.25kg or 0.55lb | $8.90 |
| Order weight up to 0.5kg or 1.1lb | $13.95 |
| Order weight over 0.5kg or 1.1lb | $19.99 |
| Order total over $150 | FREE |
| Order total over $150 to Australia, New Zealand, Brazil, Chile, Peru, India, Indonesia, Malaysia, Thailand | $19.99 |
Shipping to some countries not qualifies for free shipping option but cost not over than $19.99 for any sized order. Sorry for that, your location is too far.
Stock:

5

Model:

MM48-010

Weight:

0.98lb

DATE ADDED:

09/01/2015

Micro-Mir
Price in reward points: 2499