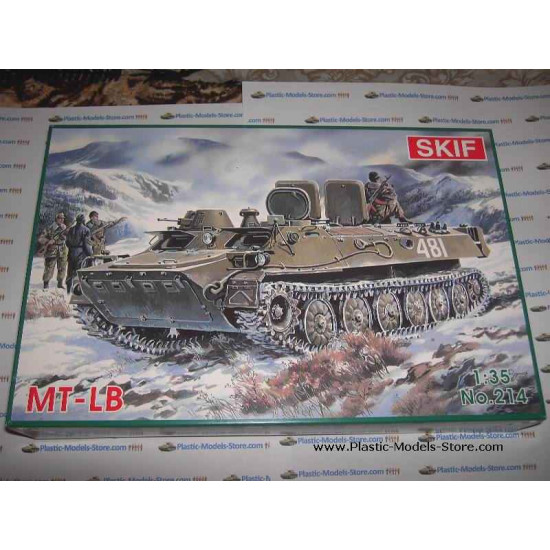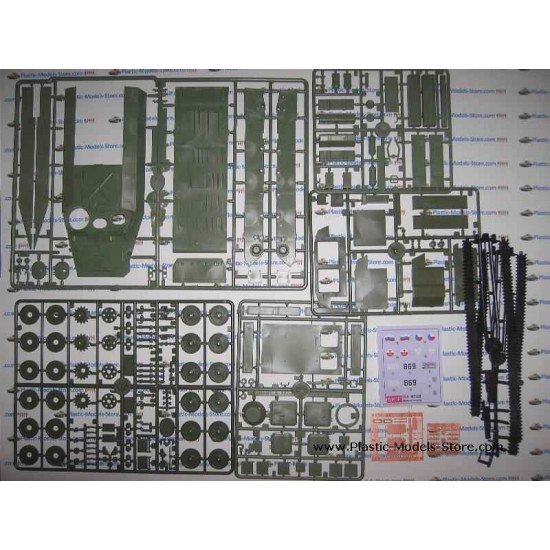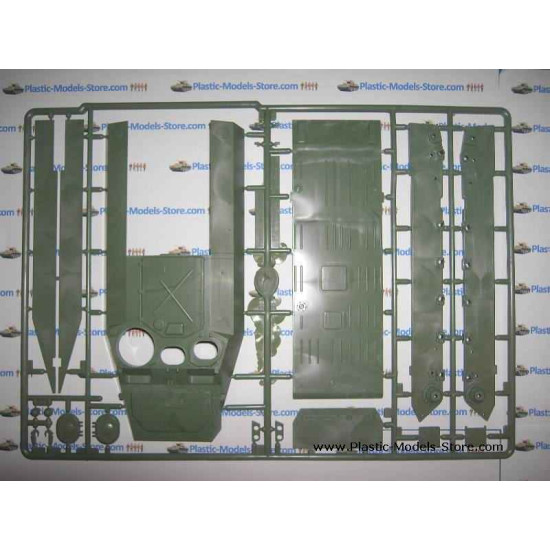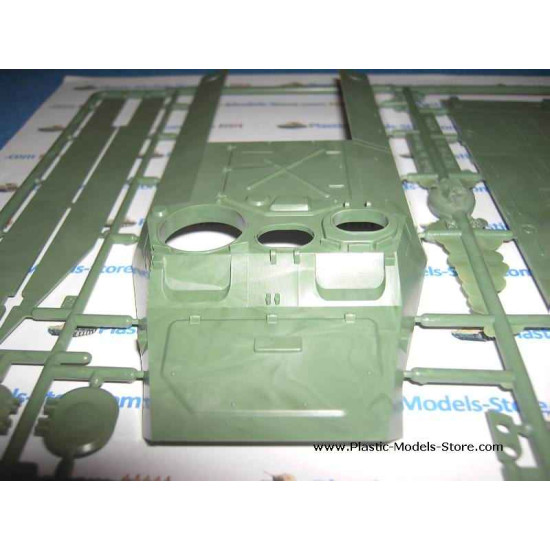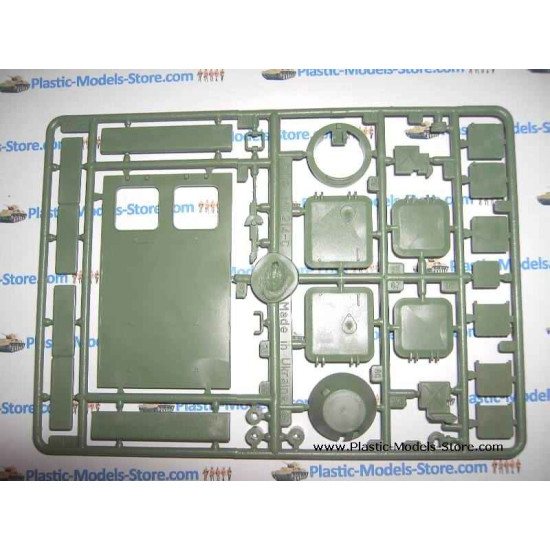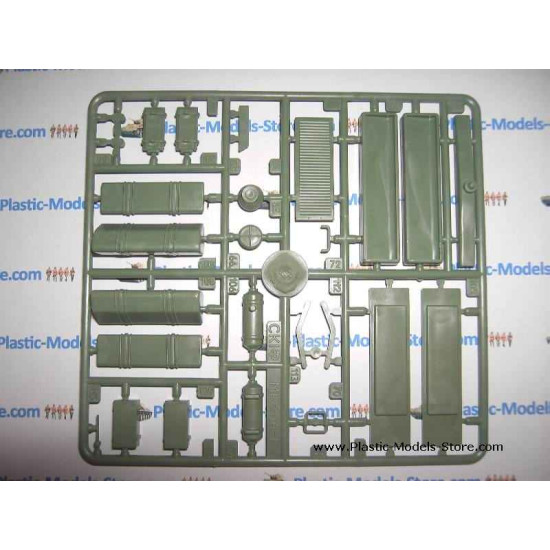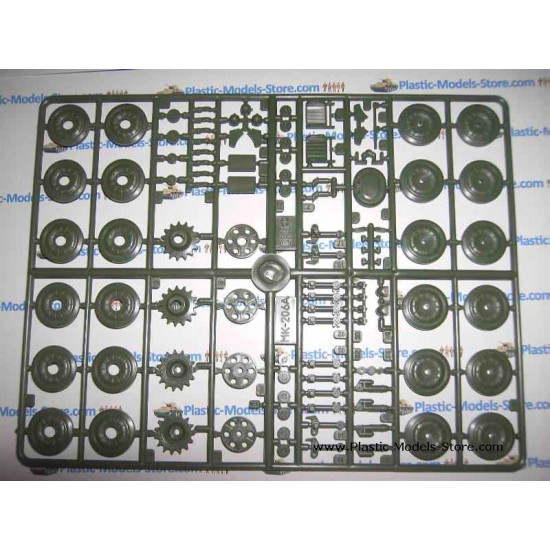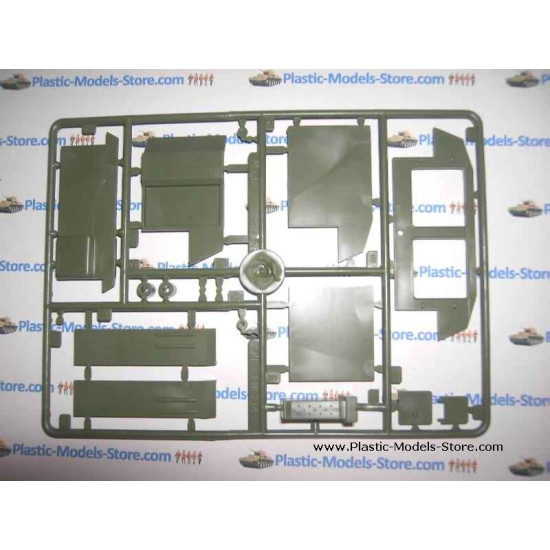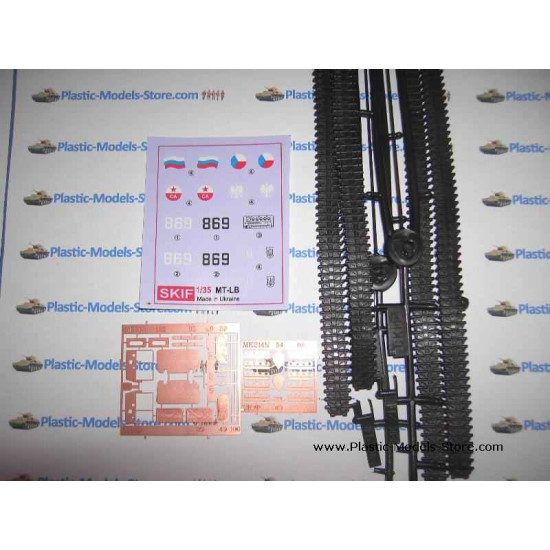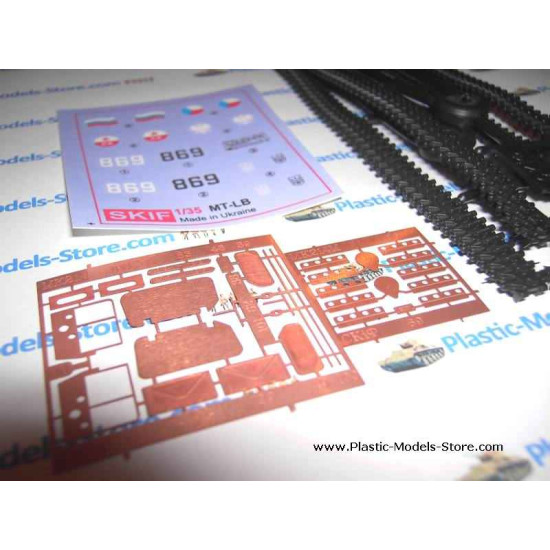 Out Of Stock










Soviet MT-LB vehicle armored troop-carrier 1/35 SKIF 214
Soviet MT-LB personnel carrier vehicle armored troop-carrier
1/35 scale plastic model kit
SKIF 214
Package include:
Photo Etched set
Decals
Gum tracks
Plastic parts
Assembly guide

Manufacturer: SKIF (Ukraine)
Scale: 1/35
Material: Plastic
Unpainted, Unassembled, Kit do not contain paints and glue.
Condition: New in Box
The MT-LB (многоцелевой тягач легко бронированный, mnogotselevoy tyagach lekhko bronirovannyi / multi-purpose light-armoured towing vehicle) is a Soviet multi-purpose fully-amphibious armoured personnel carrier which was first introduced in the 1970s. Initially the vehicle was known as M 1970 in the west.
In the 1970s the Soviet Central Auto and Tractor Directorate embarked on a development program to replace the AT-P series of artillery tractors (that were based on the ASU-57) with a new generation of vehicles. The MT-L was developed to meet this requirement based on the PT-76 chassis. The MT-LB is the armoured variant of the vehicle. Entering production in the early 1970s, it was cheap to build, being based on many existing components including the engine which is actually a truck engine. It was built at the Kharkov tractor plant in the USSR as well as Poland and Bulgaria.
Description
The crew, a driver and a commander/gunner sit in a compartment at the front of the vehicle, with the engine behind them. A compartment at the rear enables up to 11 infantry to be carried or a cargo of up to 2,000 kg. A load of 6,500 kg can be towed. The vehicle is fully amphibious, being propelled by its tracks in the water.
A small turret at the front of the vehicle fits a 7.62 mm PKT machine gun with 360 degree manual traverse and an elevation of -5 to +30 degrees. The vehicle is lightly armoured against small arms and shell splinters with a thickness of 3 to 10 mm of steel. The infantry compartment has two hatches over the top, which open forwards. There are 4 firing ports - two in the both sides of the hull, the other two in the rear twin doors of the infantry compartment.
The driver is provided with a TVN-2 infra-red periscope, which in combination with the OU-3GK infra-red/white light search light provides a range of about 40 m. All vehicles include an NBC system.
MT-LB


Type

Armored personnel carrier

Place of origin
Soviet Union
Specifications
Weight
11,900 kg
Length
6.45 m
Width
2.86 m
Height
1.865 m
Crew
2 (+ 11 passengers)

---

Armor
14mm max.
Primary
armament
7.62mm

PKT

machine-gun


2,500 rounds
Engine
YaMZ 238, V-8 diesel
240 hp at 2,100 rpm
Power/weight
20 hp/tonne
Suspension
Torsion bar
Operational
range
500 km (road range)
Speed
61 km/h (road)
30 km/h (off-road)
5 to 6 km/h (in the water)
Users
 Armenia - 75
 Azerbaijan - 196
 Bangladesh - 80+ (Captured during Op. Desert Storm & are ex-Iraqi and after that many were bought))
 Belarus - 66
 Bulgaria - 812
 Czech Republic - Only Strela-10
 Finland - 98 MT-LBV
 Georgia - 80
 Iraq (The new Iraqi Army , Kurdish Peshmerga) - 61
 Kazakhstan - 200
 Lithuania - 10
 Macedonia - 10
 Moldova - 62
 Niger - 67
 Poland - 352
 Russia - 4,800
 Serbia - Only MT-LBu variants and 13 9K35 "Strela-10".
 Sweden - 460 (Called Pbv 401, former East German, bought 1993)
 Ukraine - 2,090
 United States - unknown
Former Operators
 East Germany - 721 Bulgarian-made MT-LB's, 32 SNAR-10 and 36 Strela-10M. Passed on to the successor state.
 Soviet Union - Passed on to successor states.
 West Germany/ Germany - taken from GDR's army, all scrapped or sold to other countries.
 Yugoslavia - SNAR-10 and Strela-10. Passed on to successor states.
We have lowest worldwide shipping. And it's totally simple.
| | |
| --- | --- |
| Order weight up to 0.25kg or 0.55lb | $8.90 |
| Order weight up to 0.5kg or 1.1lb | $13.95 |
| Order weight over 0.5kg or 1.1lb | $19.99 |
| Order total over $150 | FREE |
Shipping to Australia and New Zealand not qualifies for free shipping option but cost not over than $19.99 for any sized order. Sorry for that, your location is too far.
Stock:

Out Of Stock

Model:

MK214

Weight:

0.79lb

DATE ADDED:

08/02/2009
SKIF
Price in reward points: 1799