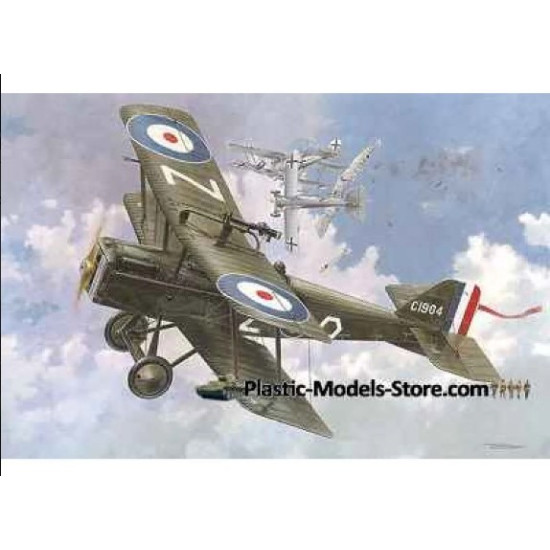 -25 %
LIKE NEW *** DAMAGED PACKING *** US STOCK *** RAF S.E.5a w/Wolseley Viper british aircraft WWI 1/48 Roden 416
RAF S.E.5a w/Wolseley Viper british plane
1/48 WWI aircraft scale plastic model kit
Roden 416

Manufacturer: Roden (Ukraine)
Scale: 1/48
Material: Plastic
Number of parts:  60.
Paint: Unpainted, Unassembled, Kit do not contain paints and glue.
Condition: New in Box

The most successful British fighter of WWI was developed in 1917 right after the severe defeat of the RFC during Bloody April. Its predecessor, the S.E.5, had very good technical parameters, except for an unreliable 150 hp engine Hispano Suiza that did not allow for a full demonstration of this aircraft's potential.
The first flight of the S.E.5a with the more powerful 200 hp Hispano Suiza engine was conducted in May 1917. One and a half months later the first mass-production S.E.5a fighters arrived at the Front. Several companies received orders for S.E.5a development: the Royal Aircraft Factory, and eight sub-contractor firms (Austin, Vickers, Martinsyde, Wolseley and others). By the end of 1917, 1300 of these fighters were due to be built; however, only about 800 planes were completed. The Hispano Suiza 200 hp engine turned out to have many drawbacks and its manufacture was continually affected by various problems. Attempts to purchase the engine in France failed because French SPAD fighters also required the Hispano Suiza in large quantities.
Wolseley Motors Ltd. had a license for building the Hispano Suiza in the United Kingdom. Wolseley's version of this engine with the name Adder was installed in a small quantity of S.E.5a's, however without success.
Wolseley's engineers modified the design of the 200 hp Hispano Suiza 8A. This engine, given the name Viper, was expected to solve the problems of the S.E.5a. In September 1917 an S.E.5a (B4862) with the Viper engine was tested and received a favorable evaluation - its maximum speed was increased by 7mph, and its rate of climb improved as well. The RFC specified the Viper as the standard engine for the S.E.5a (some previously built planes with Hispano Suiza engines going through major overhaul had their engines changed to the Wolseley Viper). The 'new' S.E.5a differed visually from its predecessor with a radiator of a new straightened form, with two sets of horizontal shutters. The Foster gun mounting now fitted directly onto the upper wing. Several flight accidents that were caused by wing failure led to airframe strengthening.
In the middle of 1918, twenty-five RFC squadrons were equipped with the S.E.5a - 15 on the Western Front, 3 in Macedonia, 2 in the Middle East, 1 in Mesopotamia, and 4 squadrons in Home Defence. Some of the most successful aces of the British Empire, including Mick Mannock, James McCudden, Billy Bishop, and Anthony Beauchamp-Proctor, scored many victories flying this type. Thirty-eight S.E.5a's were delivered to the American Expeditionary Force.
After the end of the Great War the S.E.5a quickly disappeared from the front line, being replaced by the Sopwith 7F1 Snipe.
The S.E.5a served in the U.S. Army until the mid-1920s. Later, these planes were used in numerous 'flying circuses' and even took part in Hollywood movies like 'Hells Angels'.
Technical Specifications
Wing Span
8,11
Total Length
6,37
Wing area
22,83 m2
Climb 3000m
12,20min.sec
Speed (max)
203km/h
Take-off weight
895kg
Time in fly
2,5h
Powerplant
1o200h.p. Wolseley Viper V8
Armament
1x0,303 Vickers
1x0,303 Lewis
We have lowest worldwide shipping. And it's totally simple.
| | |
| --- | --- |
| Order weight up to 0.25kg or 0.55lb | $8.90 |
| Order weight up to 0.5kg or 1.1lb | $13.95 |
| Order weight over 0.5kg or 1.1lb | $19.99 |
| Order total over $150 | FREE |
| Order total over $150 to Australia, New Zealand, Brazil, Chile, Peru, India, Indonesia, Malaysia, Thailand | $19.99 |
Shipping to some countries not qualifies for free shipping option but cost not over than $19.99 for any sized order. Sorry for that, your location is too far.
Stock:

2

Model:

US-US-RN416

DATE ADDED:

27/03/2023

Roden
Price in reward points: 1499